Proportionally, the faith sector has likely made more divest commitments, to date, than any other sector.
In 2016, one Buddhist organisation in Australia and eleven Catholic organizations on four continents jointly and publicly divested from coal, oil and gas and the Anglican Church of Southern Africa passed a motion during its provincial Synod to divest from fossil fuels. More Catholic divestment announcements are expected in March 2017.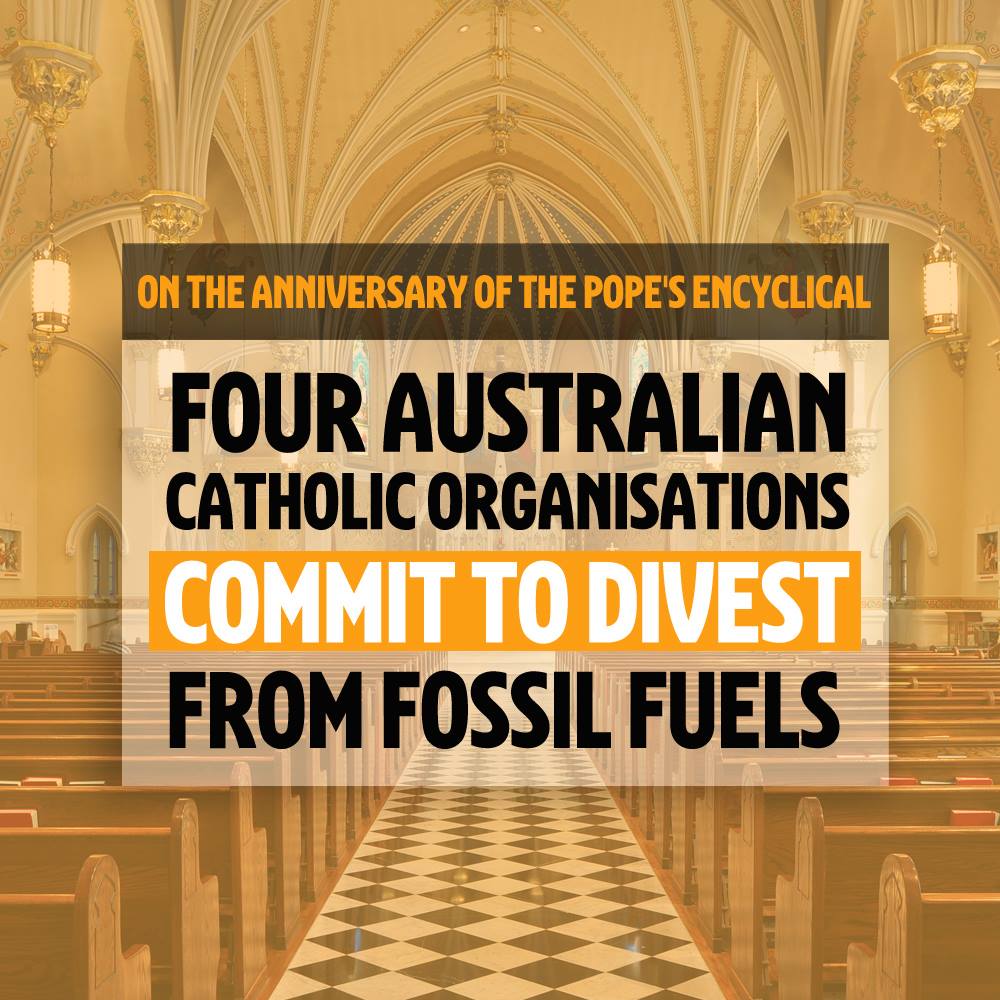 In 2015, 126 religious institutions with assets of US$24 billion committed, to some form of divestment from fossil fuels.
In May 2015, the Church of England's General Synod voted in favour of policies to mitigate climate change and divesting from tar sands and coal companies – this is the first time they had ever imposed investment restrictions on environmental grounds.
In June 2015, the Lutheran World Federation (LWF) announced its policy to not to invest in fossil fuels.  This action is taken as part of its long-standing commitment to climate justice. The LWF Council also called on its member churches "not to invest in fossil fuels and to support energy efficiency and renewable energy companies, and to encourage their institutions and individual members to do likewise." This is an important milestone and puts action behind LWF's commitment to becoming carbon neutral by 2050.
In July 2014, the Central Committee of the World Council of Churches (WCC), a fellowship of over 300 churches which represent some 590 million people in 150 countries, endorsed fossil fuel divestment this week, agreeing to phase out its own holdings and encourage its members to do the same. 
In April 2014, Archbishop Desmond Tutu said that "To serve as custodians of creation is not an empty title; it requires that we act, and with all the urgency this dire situation demands. People of conscience need to break their ties with corporations financing the injustice of climate change." 
The Divest & Reinvest Now! Campaign coordinated by GreenFaith, which began in 2013, is mobilizing faith communities to support fossil fuel divestment and reinvestment in a clean energy future. 
For some FBOs in the Global North, divestment is used in combination with other shareholder engagement strategies, in line with their fiduciary duties. See the work of the Interfaith Center for Corporate Responsibility (ICCR) here. However recent analysis by CERES has found that while shareholder resolutions on climate change are on the rise, their influence, based on coverage, intent, and overall shareholder support in voting outcomes is modest. 
Divestment Strategies - Spread the Risk
While divestment strategies have varied across each institution, with differing timelines and extents of divestments - the most common strategy has been for institutions to divest from the 200 publicly traded fossil-fuel companies with the highest amount of reported carbon reserves. 
As FBOs depend on their investments to pay for salaries, pensions, operations and other institutional costs, the potential opportunities and risks of divesting need to be carefully balanced and monitored. As an example, for the Passionists in Australia they invest prudently and have four fund managers so as not to put all of their money into one fund. Thus, any risk is spread across their portfolios. Smaller FBOs will not use fund managers which makes the job of finding out the percentage of fossil fuel in their stocks harder to ascertain.
Will the Vatican Divest?
In Pope Francis' Encyclical Laudato Si' (June 2015), the Pope suggested such actions are consistent with responsible stewardship of Nature."Boycotting certain products," he said in the Laudato Si address, can compel businesses "to consider their environmental footprint and their patterns of production."
In September 2016, Cardinal Peter Turkson, president of the Pontifical Council for Justice and Peace was more explicit when he said that the fossil fuel divestment movement is based on the same logic of applying social pressure on businesses that Pope Francis encourages in Laudato Si'. He presented this message on behalf of the Pope on the World Day of Prayer for the Care of Creation (September 1st).
Divestment from fossil fuels was also clearly written in a COP21 statement from the Catholic Bishop Conferences from all Continents in 2015.
More Commitments Needed From Global South
While the percentage of fossil fuel divestment commitments by faith communities is one of the highest of all divesting sectors, the overwhelming majority of commitments to date have been from Christian FBOs in the Global North, though it is noted that Islamic Relief (based in the UK) made a commitment to divest in 2015.
In the Global South, while a number of Australian and New Zealand Christian groups have committed to divest, the only known Buddhist, Hindu or Muslim organisation to have made public their divestment from fossil fuels is the Sydney Buddhist Centre and this was done by switching their bank account to a fossil-free bank. Slow progress can be attributed to a lack of awareness on divestment in the Global South, a lack of historical participation there in past faith-based divestment campaigns and that the divest-invest movement doesn't have the same multi-sector momentum it does in the Global North, though 350.org are doing good work in Asia.
Please see this link to see a fuller list of FBOs that have divested.
Was this helpful?